Dry Ice Blast Cleaning Machine
Dry ice cleaning is firstly applied to clean grease by the navy, but now it is widely adopted by many industries. The working principle of dry ice blast cleaning machine is similar to that of steel grit blasting, plastic sand blasting, as well as soda blasting machines. In dry ice cleaning, the dry ice pellets are accelerated in high pressure air flow, and then ejected to blast the surface to be cleaned. The particle vaporizes and the momentum disappears instantly upon the blast. An agile heat exchange happens between dry ice particles and the surface, resulting in the gasification of solid CO2.
Description
Advantages
We provide single-pipe (for heavily dirty areas) and double-pipe dry ice blasting machines. They are highly efficient, energy-saving and eco-friendly. They save your money, time, and efforts.
Application
The dry ice blast cleaning machine is mainly used:
1. in automotive industry – to clean carbon deposits inside the engine, mold, as well as wax and polyurethane residue on the car seat tooling.
2. in tyre industry – to clean tyre mold.
3. in power industry – to clean generator housings, fan blades and power distribution systems, as well as the surface of stators and rotors.
4. in food industry – to clean carbon deposits on conveyer belts, furnaces, baking trays, rollers, and other transport devices.
5. in printing industry – to clean ink and fuel deposits on gears, guides and nozzle.
Dry ice cleaning system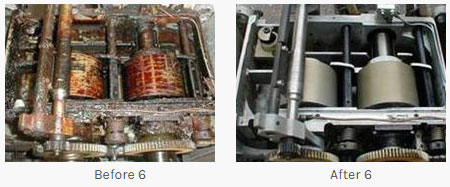 Purchasing Guide
If you need to buy a dry ice blast cleaning machine, please provide the information about cleaning site and supply voltage.
Shipping & Delivery
The transportation of large equipment, such as the air separation unit, PSA gas plant, and the CO2 recovery plant, has always been a concern of overseas customers. The unloading and lifting must be careful. How to reduce extra handling fees is also one of the issues to be taken into consideration.
We can provide you with a worry free delivery:
1. We maintain long-term cooperation with some partner forwarders. So we can:
a. tell the accurate shipping date and quote the best shipping rates
b. book appropriate cargo space and choose the best shipping method: container, roll-on-roll-off ship, open top container or bulk carrier
c. make appointment for commodity inspection, arrange shipment, and prepare necessary documents for customs clearance
2. We have our own private wharf. Even 300m3 pressure vessels can be loaded within the factory and sent to Shanghai port.
3. We are quite experienced in loading and fixing containers, protecting the cargo from any possible damage on the way. The cargos will be in perfect condition upon the arrival at the destination.
4. The bulk ship and roll-on-roll-off ship are for the delivery of large and bulky cargos. The destination port may not be equipped with large cranes, and at somewhere the lifting charges are quite expensive. Taking these factors into consideration, we will choose ships equipped with cranes to reduce costs for customers. Our forwarder will arrange appropriate crane lifting and attach the cargo to the deck or cabin.
5. We will track the delivery until you receive the cargo.
6. The vast majority of customers receive cargos intact, but there is still likeliness of slight painting scratches. In this occasion, we suggest customers to fix the paint on their own if necessary. In addition, customers may purchase transport insurance to further reduce the risk of cargo damage.